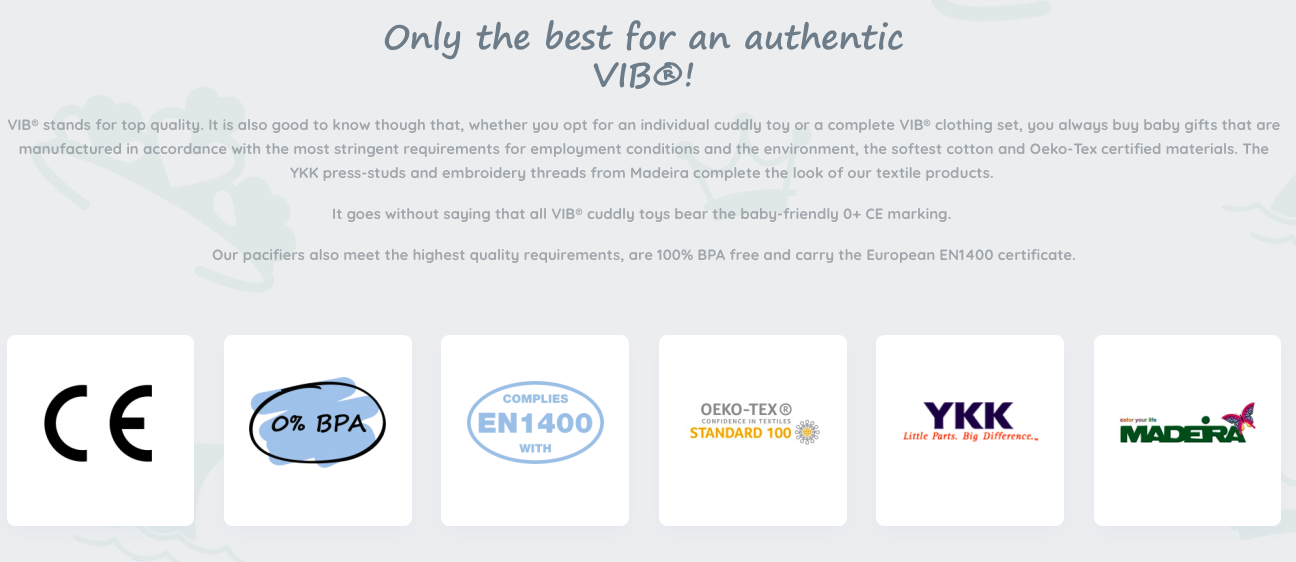 Did you know...
VIB® stands for top quality. Whether you choose a cuddly toy or a complete VIB® textile set, you always buy baby gifts that have been produced according to the stringent requirements in terms of working conditions and environment, the softest cotton and Oeko-Tex certified fabrics. The snap fastener from the brand YKK and embroidery yarn from Madeira complete our textile products.
And of course all VIB® cuddly toys have the baby-friendly CE marking 0+.
Our pacifiers also meet the highest quality requirements and are European certified with the EN1400 certificate, made with 0% BPA.
Oeko-Tex
Oeko-tex (Ökotex) is from origin a German organization that pursues a strict policy against harmful substances in textiles. Oeko (Öko) stands for Eco, and Tex refers to textiles. Thus Ecotextile! Oeko-tex was founded in 1992, because at that time there was a lot harmful chemicals in textiles and clothing. The good thing about Oeko-tex is that they already have a lot of experience; they have been active for almost 25 years. They also inquire quality check-ups at the companies that use the Oeko-tex label. This maintains continuous good quality, so you can be sure that the fabric is genuinely healthy.