Do you have a nice photo of your VIB® with a Very Important Baby® product and do you want to share it with us?
Mail us at info@veryimportantbaby.nl and maybe your little one will soon shine on our website or social media channels.

Or use #vib_official Or tag us on Instagram @vib_official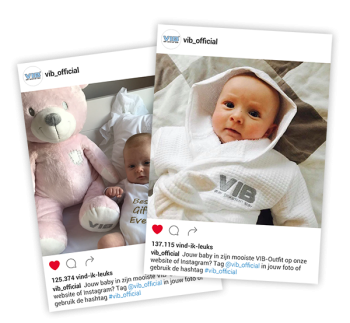 The largest collection for the littlest ones
Super soft cuddly toys and cuddle cloths, rattles, activity toys, pacifiers, VIB® has absolutely everything for the littlest ones. Especially when it comes to baby clothing. From must have hats to lovely bathrobes and slippers. Great to give as an individual gift or as a complete baby gift set. New moms and dads are always happy to receive our handy wraparound rompers, as they are great to wrap their baby up in no time.
The VIB® collection can only be purchased from our physical points of sale. Looking for a nice, last-minute baby gift? You'll always find the perfect gift at one of the many VIB® dealers close by. And if you cannot find what you are looking for, they will be happy to order it for you.
Turnover CONSA6 John(0)